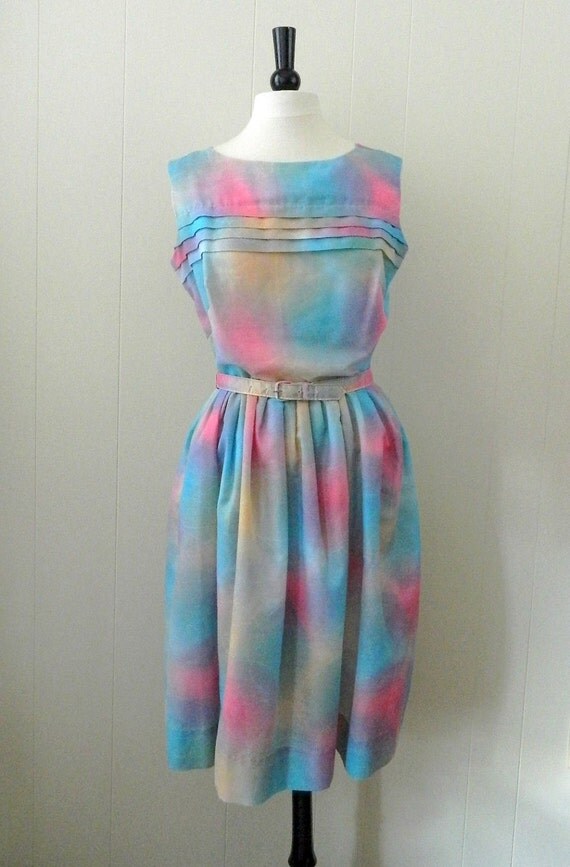 I just had to share this, my very latest acquisition via Etsy!
This gorgeous marbled rainbow colored dress is like nothing I've ever seen before! At first I thought it was an 80s-does-50s dress because of the bright colors and unusual print, but no, it appears to be the real deal! I don't think it's a plain dress that's been dyed, either- the marbling is too neat. In any case, it's just gorgeous- so incredibly unusual and such beautiful colors! And look very closely, you'll see a dainty white flower print over the top!
As usual, it'll be a teensy bit big on top (oh the woes of being pear-shaped!), and I do wish it hadn't been hemmed, but as we vintage lovers know, the search for the perfect-fitting, unaltered, mint-condition vintage wardrobe is a futile one (or at least a very expensive one).
Thinking I'll wear these earrings with it (vintage 80s-but-looks-50s-or-60s Sarah Coventry goldtone and glass AB):
I love how they look different colors in different lights- I thought the pinks, yellows and blues in the earrings would look great with the dress. Either that or go for cheap 'n' cheerful with white plastic beads
Can't wait to get my little rainbow package! Ta-ra!